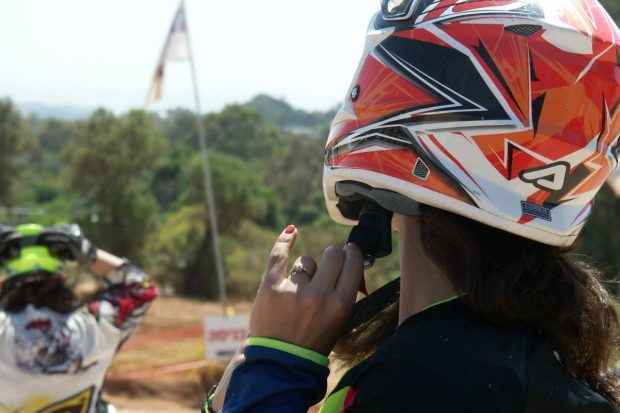 By: Tammy Gorali / photo: Moty "yanooka" Gelbart
It's not easy being a girl in a man's world, but every now and then it seems less complicated, as it did that morning at the Wingate Sport's Institute in Israel. On Friday, April 15th, Makenzi Wassenaar, owner of Motocross Ladies, and 10 female riders from the motocross and enduro worlds gathered together to get some tips and inspiration.
Makenzi, from Dallas, Texas, grew up in a motorsports-loving home, riding anything with an engine and wheels. After losing her mother to cancer when she was just 15, Makenzi thought of leaving that all behind. But according to her, motocross was the only thing that gave her true peace. Over time, she started to realize that she found joy and satisfaction in raising awareness for women's motocross and supporting young women in their own motocross careers. Not just on the track, but off the track as well. Makenzi established Motocross Ladies in 2011, placing Amanda Sokalski as Team Motocross Ladies manager, assisting young riders through professional training, promotional assistance, sponsorship, rules and politics regarding women's motocross and friendship.
Makenzi who was always intrigued about Israel, The Holy Land and was hoping to visit here one day, got the push she needed when she spoke with her friend Blake Wharton about his resent trip to Israel and the motocross community here, She decided to mix business with pleasure and head to Israel herself, along with her Israeli friend Adam. Seeing that business (Motocross Ladies) brings her so much pleasure, it wasn't a hard decision. After few phone calls to a local Israeli motocross instructor and owner of Dirt Bike Academy, Roey Shlomi, a group of riders were invited to a Motocross Ladies Ride Day to meet Makenzi and have a fun day out at the track.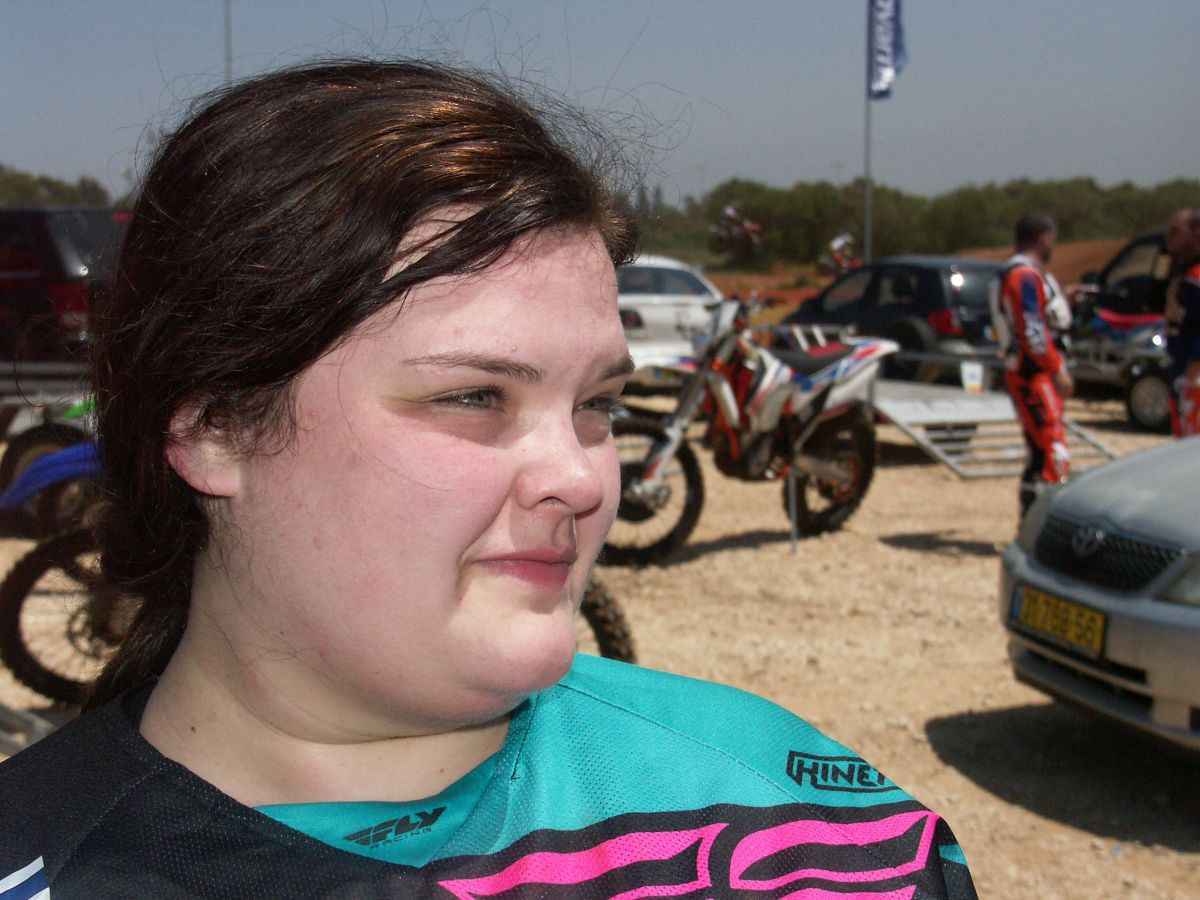 On Friday morning, at 9:30 AM, a group of ladies gathered underneath a pop-up tent at the new motocross track at Wingate. Young riders, including Noa, Shira, Raz, Ran and Dana, ages 12 to 15, along with their supportive fathers, unloaded their bikes and got ready for the day. The five athletic, friendly girls with their long wavy hair looked a bit different than the usual riders on training days. When the older girls joined, including Tamar, Mor, Racheli, Monik and Noga, who are mainly from the enduro side of the sport, there was a presence that could not be ignored.
In the short debrief before heading out to the track, Makenzi took some time to talk with the girls, asking them to share  why they ride.  As expected most of the girls said they followed a male family member like a father, brother or spouse who also rides, once Ran simply said cause she loves it, the rest of the group, agreed. Someone has exposed them the world of riding but the love for it, makes them stick around.
As the riders got familiar with the track, Makenzi, along with Sean (the CEO of the Israeli Motorsports Foundation) and Roey, walked around the track asking questions about the current state of motocross in Israel, motocross awareness, available support and all the bodies involved. Motocross in Israel is not simple and is far from being ideal. However, in a country like Israel with the perfect weather and riding conditions, there is a huge potential for Israel became a "Mecca" for motorsports  racers and fans and Makenzi wants to help. "The potential in Israel is huge. The weather is great, the dirt is superb, and the Mediterranean Sea is so close by. If more professional riders felt the dirt here, they would come all the time. It's beautiful here: the people, the land, the food… there is so much here and from the outside it's hard to see. What's important to female riders, in the US and here, is the growth of our sport. We need to help encourage more and more girls to become a part of the sport. But even that's not enough! We need to make people aware and to know more about the women's side of motocross. Awareness will help nurture them and assist their development, just as it does for boys. Then there will be champions! Then girls will get the support they deserve from the large companies! Then females riders will have the ability to represent brands: all with the right attitude, character and skills, champions be found here and will place Israel on the map as a riding location for people from all over the world. One track is not enough! People here need to understand that motocross could provide families with work and pleasure, and from this unique supportive community, the pillars for our society could rise."
As the hours flew by it seemed that a small community was starting: a girl's community. Even with an age gap of over 20 years between some of the riders, the conversations ensued, as in this environment there is more in common than devastating. The atmosphere was a far cry from what some might imagine when you place females together. There was no jealousy or bitchiness. The girls were all sharing tips and insights, and even complimented each other on riding styles, bikes and gear design. Many questions were raised, the girls asked for guidance and received assurance, Makenzi pointed out the correct riding lines, the right posture, opening the throttle and said some things that they might have heard before but hearing it from her might have been more comfortable as she is one of them. "One of the things us girls must stop doing is thinking so much because we want to overanalyze everything. We want to see and evaluate every little thing, but we don't have time for that when we ride. The bikes are built for this! We have to trust them. It's not easy, but we need to relax, trust the bike, let it do what it was meant to do… even though we know it tries to kill us…"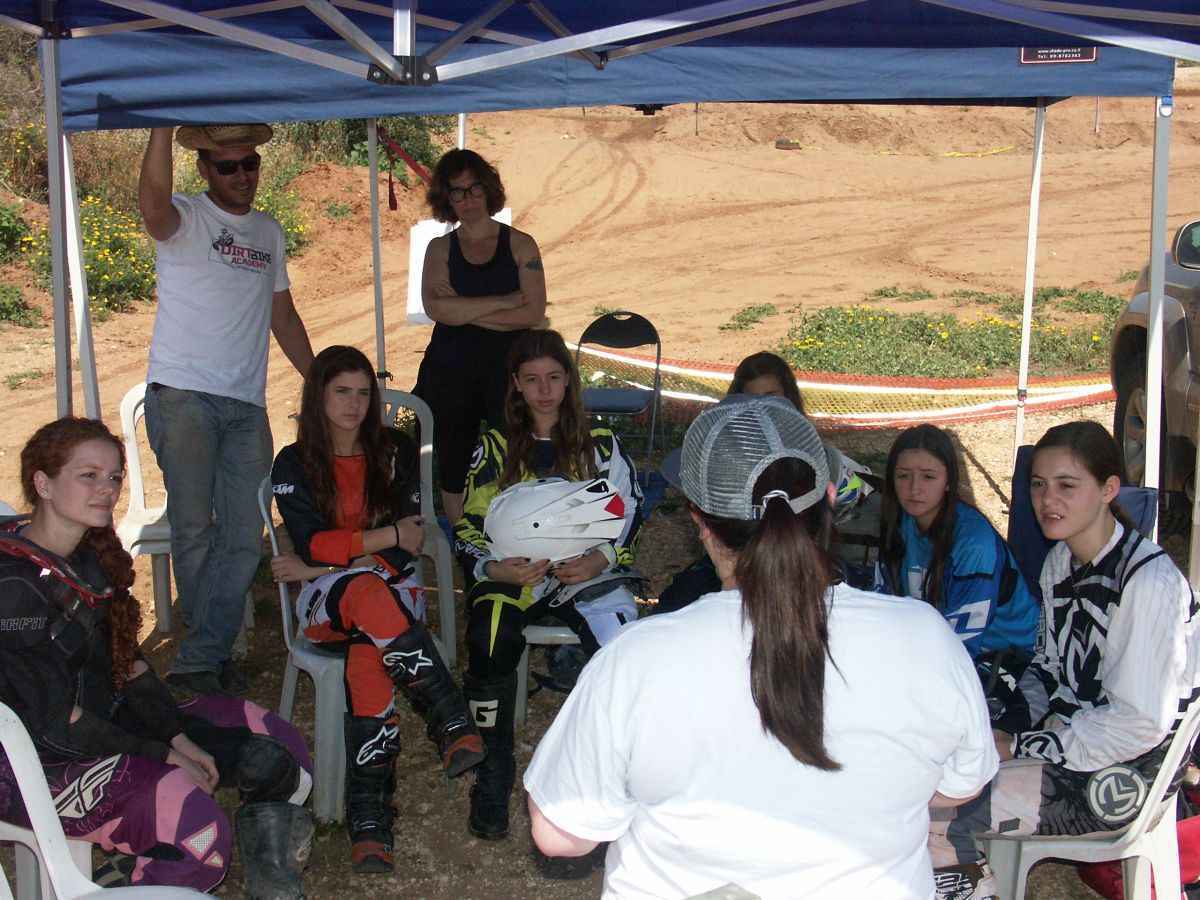 I have never seen so many female riders in the same place. It seemed that, apart from Makenzi, nobody else there had ever seen this sight before. It shed a light on all of the possibilities like ideas of a women's motocross league, championship, female riders getting together. Many ideas were thrown in the air. Not one person seemed uncomfortable with the presence of so many ladies at the track, including the top professional Israeli riders and young riders who practiced there that day.
When the get-together came to an end, I asked Makenzi about the overwhelming cost and investment required by this sport. She replied, "The relationships made through motocross are priceless. Yes, it is an expensive sport to be a part of, but its value and what you gain are worth so much more. The motocross family and the positive impact it has on young people can't be associated with a price. It's priceless."
And what about sponsorships? I nag, as we can clearly see how difficult it is for women to get support in all sports fields.
"There are many reasons why it is more difficult for women to get sponsors. First of all, there are significantly smaller numbers of fans coming to female races. The exposure is smaller, so for companies, it is hard to see the value in their investment. The root of the problem is that even the industry itself is not investing enough to make it worthwhile to even compete. In some competitions, the riders finishing top three don't get enough award money to even cover the cost of fuel. So when companies see that even the industry itself isn't supporting the women, it doesn't look good. On top of that, female riders don't know how to properly promote themselves. They do not know how to sell what they do nor how to present themselves in a way that would encourage companies to support them. That's one of the reasons why we started Motocross Ladies. The girls on my team know learn how to market themselves and become the ideal sportswoman for sponsors. These are young women who understand how to manage on and off the track, how to support and uplift the people around them while bringing in consistent finishes on the track. But most importantly, they are good human beings! It's not just important for the sponsors. It is also, arguably more important, for their future work place and collage applications. While it is important to find supporters and sponsors, it is also hard at a young age to find sponsors who also represent the values and character of the rider."
So what is the next step? She replies "Something must be done! You can't just accept the situation as is. You need to talk, write, get to know the people in the industry and bring in the fans. This is just trip number one! I'm just starting to meet the people involved and will go from there."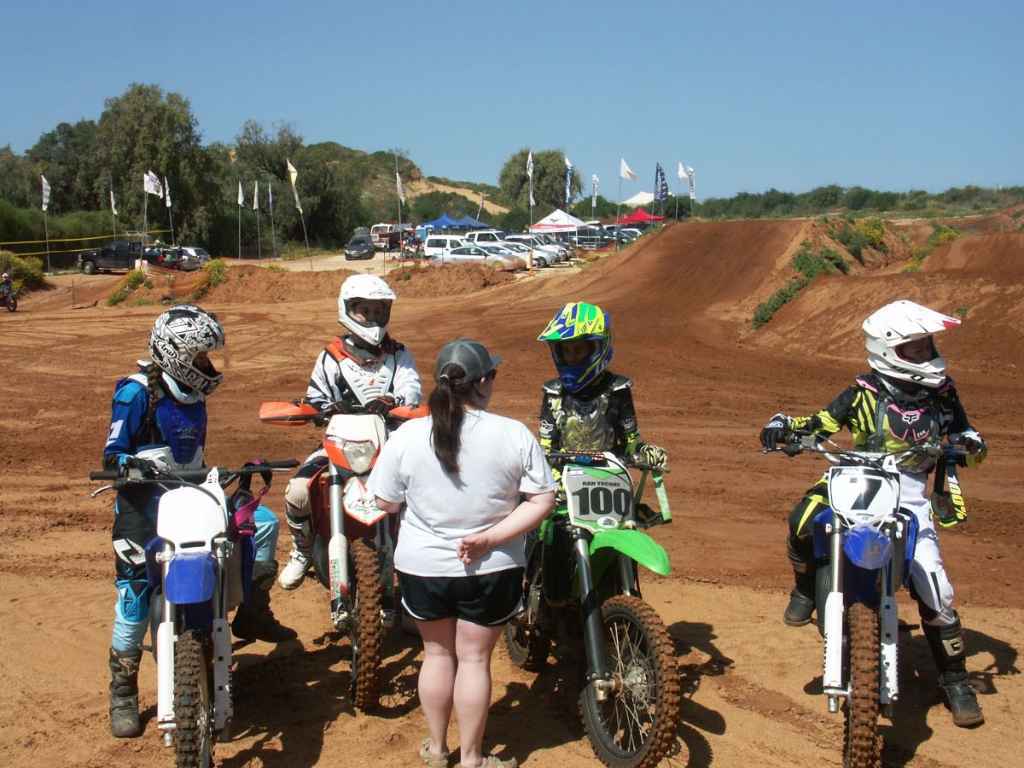 As the girls started to change out of their riding gear they seemed to be like just another teen with pink garments and nail polish. They even started a riders Whatsapp group to stay in touch.
The fathers came one at a time to thank her, hoping for a future get-together and discussing the potential for motocross in Israel. There is most definitely no lack of potential in Israel and all it took was a fiery 5 foot-tall woman, who came all the way from Dallas, to remind us of that. Besides, who said this sport belongs just to the boys?
After it all ended, I asked Roey in what way Makanzi's contribution was different than his, seeing that he regularly trains most of the girls who attended the event. He said, "She proved that anything is possible. It doesn't matter how tall they are. They have all the options in front of them just like the boys, they just need to get up and do it. That's the main thing."
?So who's coming to ride